So this is WAY OH WAY so overdue. But on my band Gay Beast's last west coast tour, I had the opportunity to show some prints at the legendary Tom of Finland foundation. If you aren't familiar with Tom's work, it's amazing. An integral part of both Gay art, and erotic art in general.
Anyway, so my friend Sean Carnage helped set up an amazing night at the foundation. I was able to show 10 prints of mine, create a print to give away to all the people who came to the show, and hang with both leather daddies and music nerds while eating amazing vegan food and jamming to crazy tunes. Quite the memorable night.
For the show, I made 3 small editions of prints as a response to Tom's work. I tried to take some of the ideas and vitality of erotic art and put it within a more whimsical and/or abstract context.
Here are the 3 prints.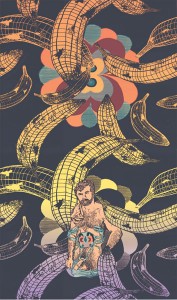 ∆∆∆∆∆"Cancer Crab" 12" X 24" 5 color silkscreen

∆∆∆∆∆"Lower Half" 22" X 26" 8 color silkscreen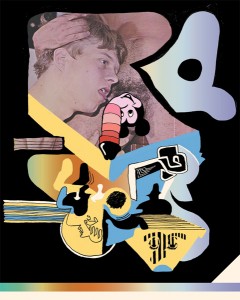 ∆∆∆∆∆"Mickey Dick" 14" X 17" 5 color silkscreen
Sean, and his boyfriend Mikhai were the sweeetest organizers ever. and I had an unforgettable conversation with the TOF foundation president Durk.
before the show, Sean did an inteview with me… and it's HERE.
and then, after the show, we had a crazy awesome show at the Pehr space with Raw War, Sister Fucker and XBXRX. Totally off the chain.
Prints are in the "Prints" section and are for sale if you like.
XO
DAn