Hey alllll.
If you can, Go to Narwhal Gallery
2988 Dundas Street West, toronto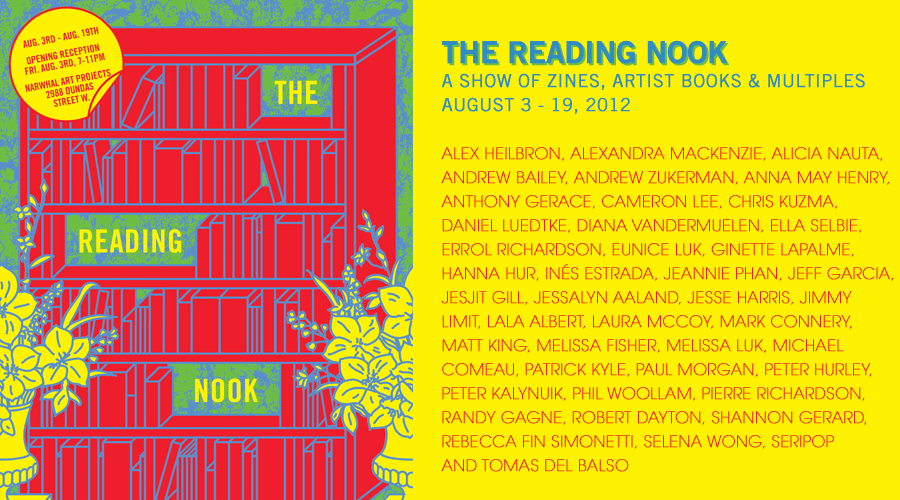 for this show.
A Show of Zines, Artist Books and Multiples
Opening reception Friday, August 3rd, 7-11pm
show runs August 3rd to August 19th, 2012
…
Curated by Alicia Nauta and Kristin Weckworth
Art by:
Alex Heilbron, Alexandra Mackenzie, Alicia Nauta, Andrew Bailey, Andrew Zukerman, Anna May Henry, Anthony Gerace, Cameron Lee, Chris Kuzma, Daniel Luedtke, Diana VanderMuelen, Ella Selbie, Errol Richardson, Eunice Luk, Ginette Lapalme, Hanna Hur, Inés Estrada, Jeannie Phan, Jeff Garcia, Jesjit Gill, Jessalyn Aaland, Jesse Harris, Jimmy Limit, Lala Albert, Laura McCoy, Mark Connery, Matt King, Melissa Fisher, Melissa Luk, Michael Comeau, Patrick Kyle, Paul Morgan, Peter Hurley, Peter Kalynuik, Phil Woollam, Pierre Richardson, Randy Gagne, Robert Dayton, Shannon Gerard, Rebecca Fin Simonetti, Selena Wong, Seripop and Tomas Del Balso.