I am very happy to have my two channel short video "Threshold" included in this screening of short experimental video works.  The screening is called "With A Voice Like the Lake" and it features 13 artists from the chicago area.  The program is a part of the Society for Contemporary Media Studies conference that is happening March 6th-9th 2013. The conference itself is pretty academic, gathering film scholars, educators and industry peeps in one place to listen to talks and panel discussions about contemporary media.
here's the cover of the conference pamphles (can't believe how generic-ly it's designed)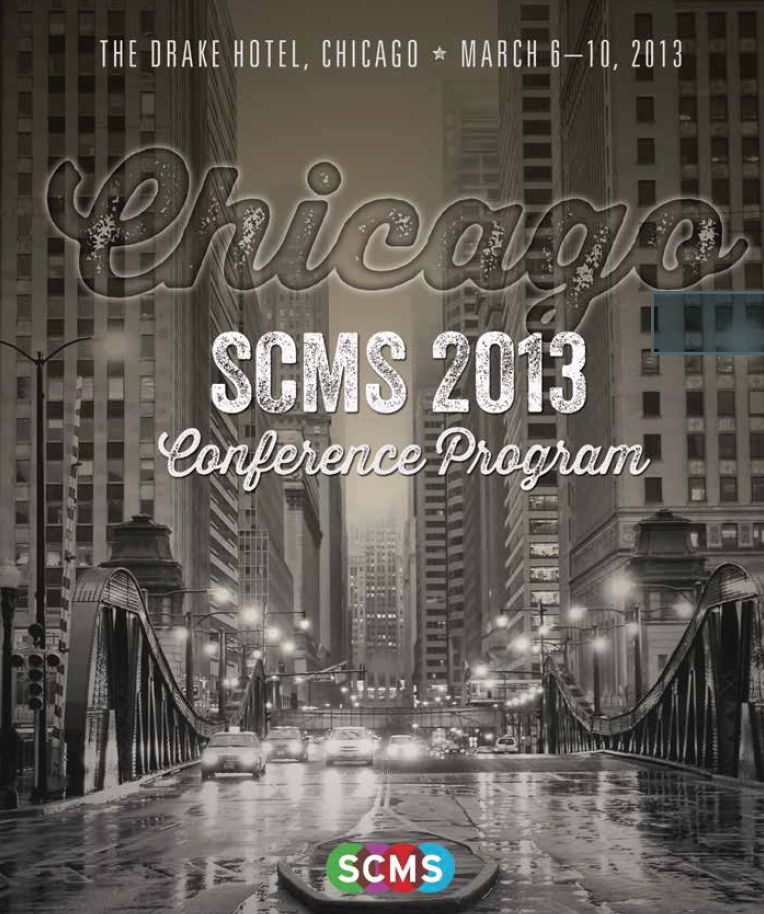 Link to SCMS conference page  there is a PDF of the program of lectures there as well.
here's the blurb about the program:
Saturday, March 9, 2013
8:00PM
With a Voice Like the Lake -New Experimental Media Work from Chicago
LOCATION:THE NIGHTINGALE THEATRE, 1084 N. MILWAUKEE AVENUE
This screening and social gathering showcases a broad spectrum of new experimental film and media work created in Chicago over the last few years. Reflecting the electric energy and diverse community of experimental makers working with film, video, animation and new media in the city, this program provides a peek into Chicago's vibrant media arts scene. Hosted by the Nightingale Theatre, one of Chicago's most vital and adventurous venues for viewing new experimental work, the program will be followed by a discussion with several of the artists featured in the screening. Admission is free and on a first-come, first-served basis. Program curated by Christy LeMaster, founding director of the Nightingale Theatre and Michelle Puetz.
Sponsored by the Experimental Film & Media Scholarly Interest Group
video program:
Pre-Show: Jon Satrom Loop TBD
1. AUTHOR MYTH by Cameron Gibson
2.CRUX FILM by Lilli Carré & Alexander Stewart
3.PERIL OF THE ANTILLES by Fern Silva
4.LIE BACK AND ENJOY IT by Jessica Bardsley
5.ORPHEUS (OUTTAKES) by Mary Helena Clark
6. THRESHOLD by Dan Luedtke
7. HOME MOVIE by Latham Zearfoss
8. 2-STYROFOAM by Theo Darst
9. THE HIDDEN COVE by Emily Kuehn
10. SOMEWHERE ONLY WE KNOW by Jesse McLean
11.LIKE A LANTERN by Lilli Carré
12. WREST by Kent Lambert
XO
DAN