"I am thinking about figures and how their definitions come together. Figure: A number. Official statistics or financial performance. Figure: A person's bodily shape. Representation of human form. Person seen indistinctly at a distance.
In Covid we are looking at figures every day, affecting what we do, where we go, and how we live, who we're with… The number of infections and deaths illustrate an abstraction of how bad the pandemic really is. The daily assessment of the risks involved underscore the fragility of our own bodies, the ethics of our own agency, and our sense of individual control. They set the stage for when the state and the law must intervene. When do our desires and behavior become incompatible with the numbers? The work in "Results" isn't a direct illustration of these questions, but is a backdrop to my exploration of how the health of bodies are quantified. "Results" is a poetic exploration of how these figures are presented back to us in the form of lab results, health related advertising, and narratives of cause and effect."​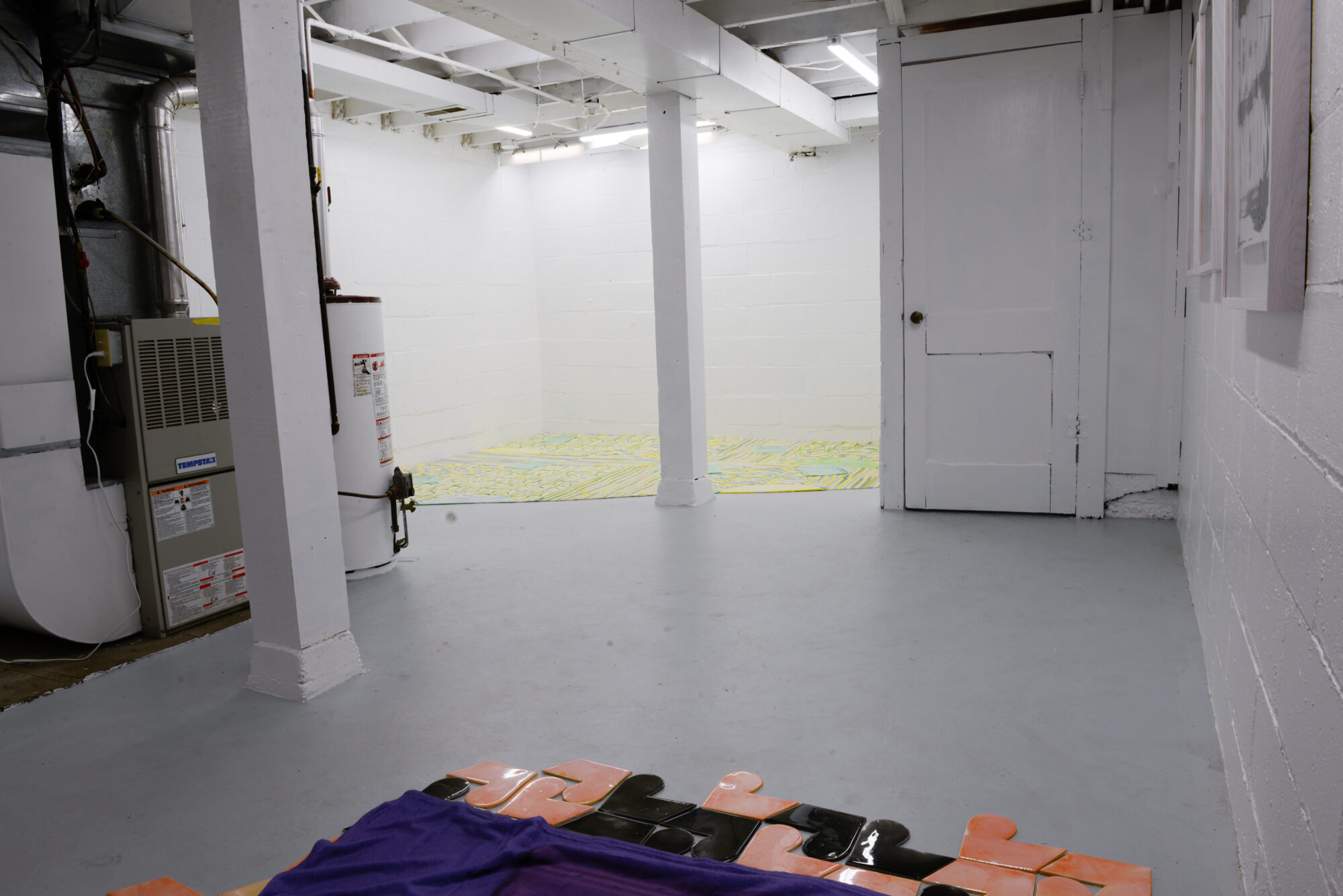 "Lab Work (Easter Candy)" - Foamcore, Resin, Ink, Xerox - 12ft X10ft - 2020

This site-specific installation includes printouts of the artist's Labcorp urine and blood analysis results that rest upon a field of foamcore and resin tiles. The lab results act as a data-based, internal form of self-portraiture.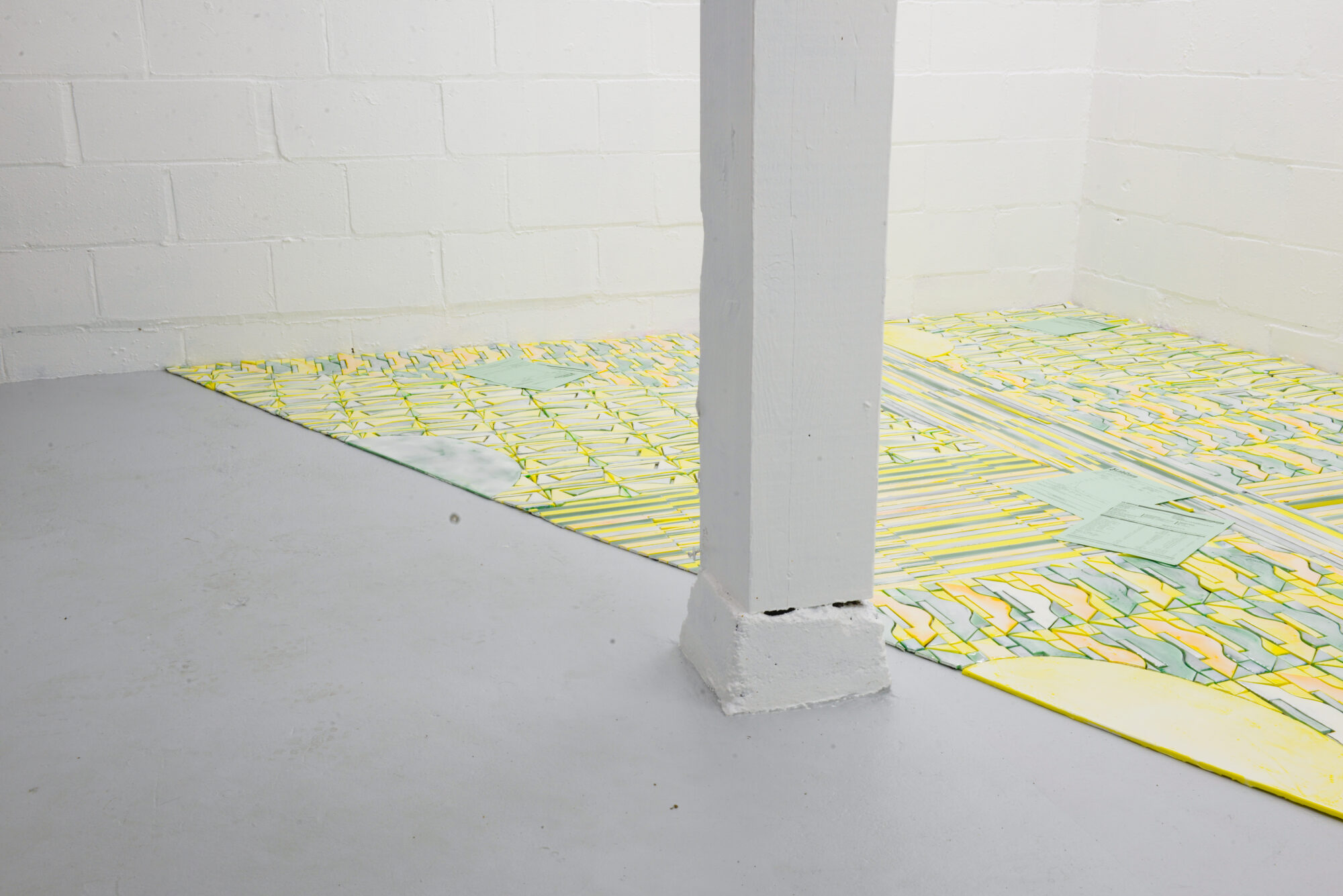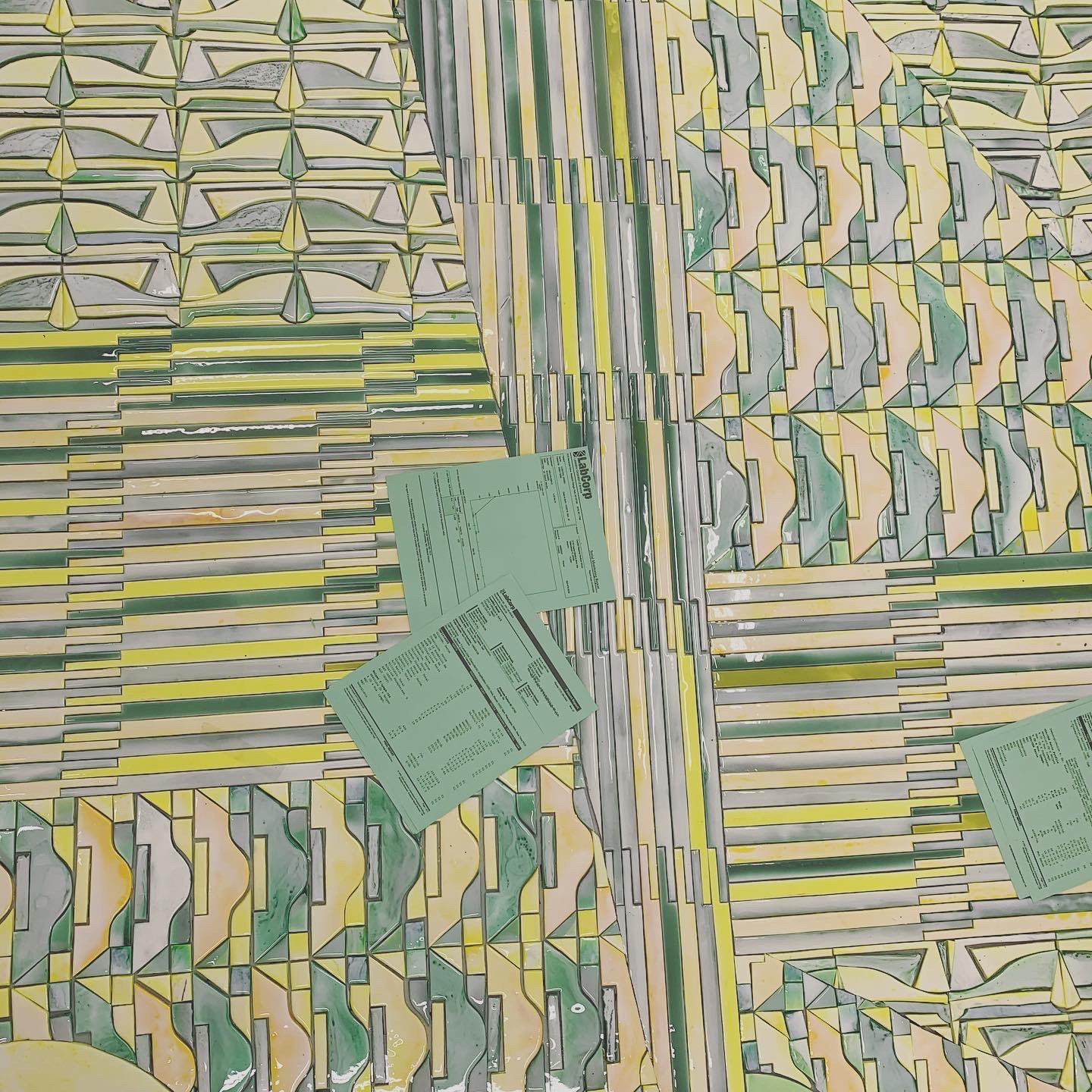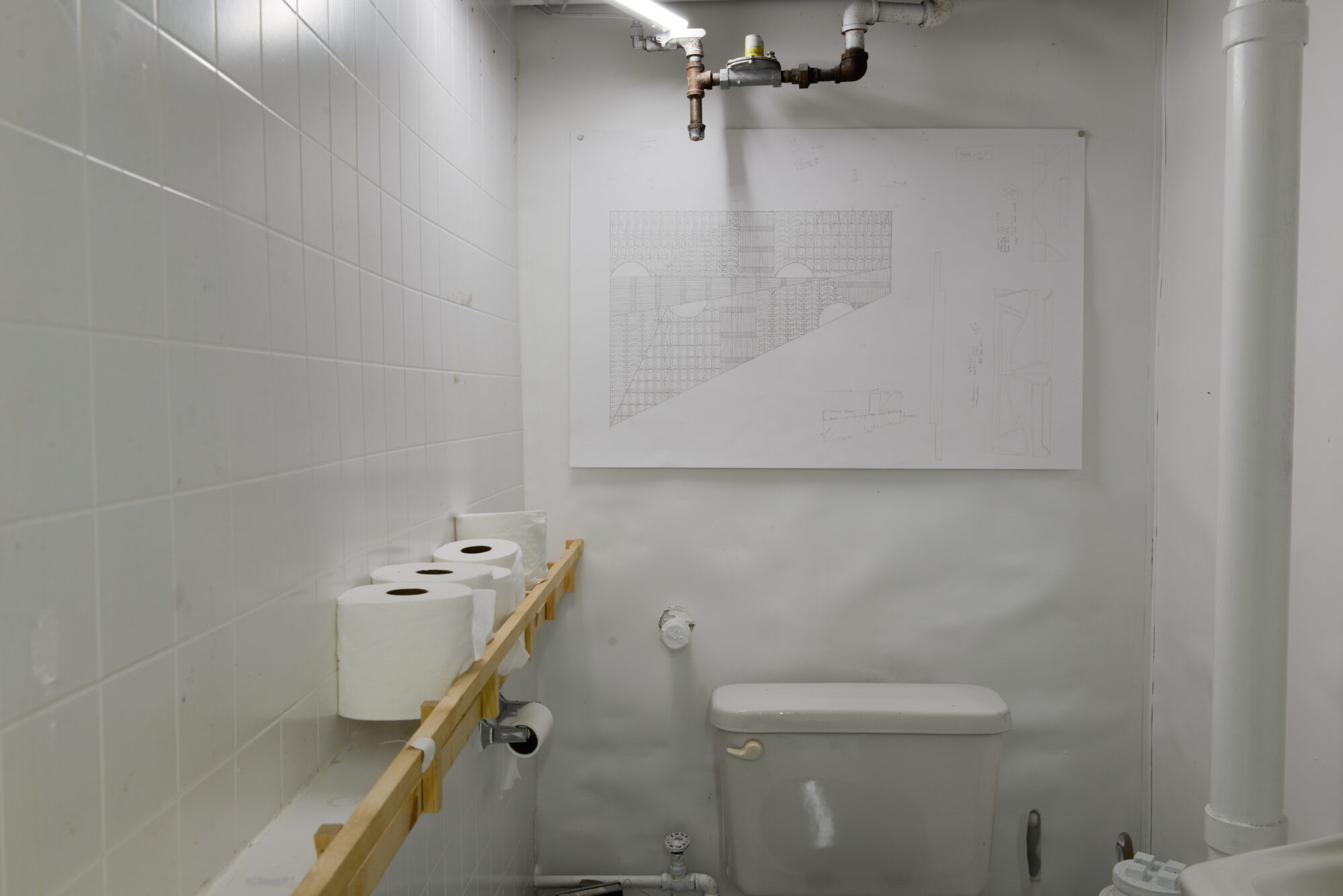 Preparatory drawing for Lab Work (Easter Candy) - Pencil on Paper - 38in X 25in - 2020
"Missing Blood Types: Chocolate" - Walgreens digital print on fleece, foamcore, resin, ink. dimensions variable - 2020

The blanket image comes from a web ad campaign by several international corporations called "Missing Blood Types" where each of the letters A, B, and O were removed from their respective company logos. The campaign was meant to draw awareness to the need for blood donors. Through donation the missing blood type letters has the potential to complete the company logo, implicating the viewer/consumer's body as a site of corporate benevolence.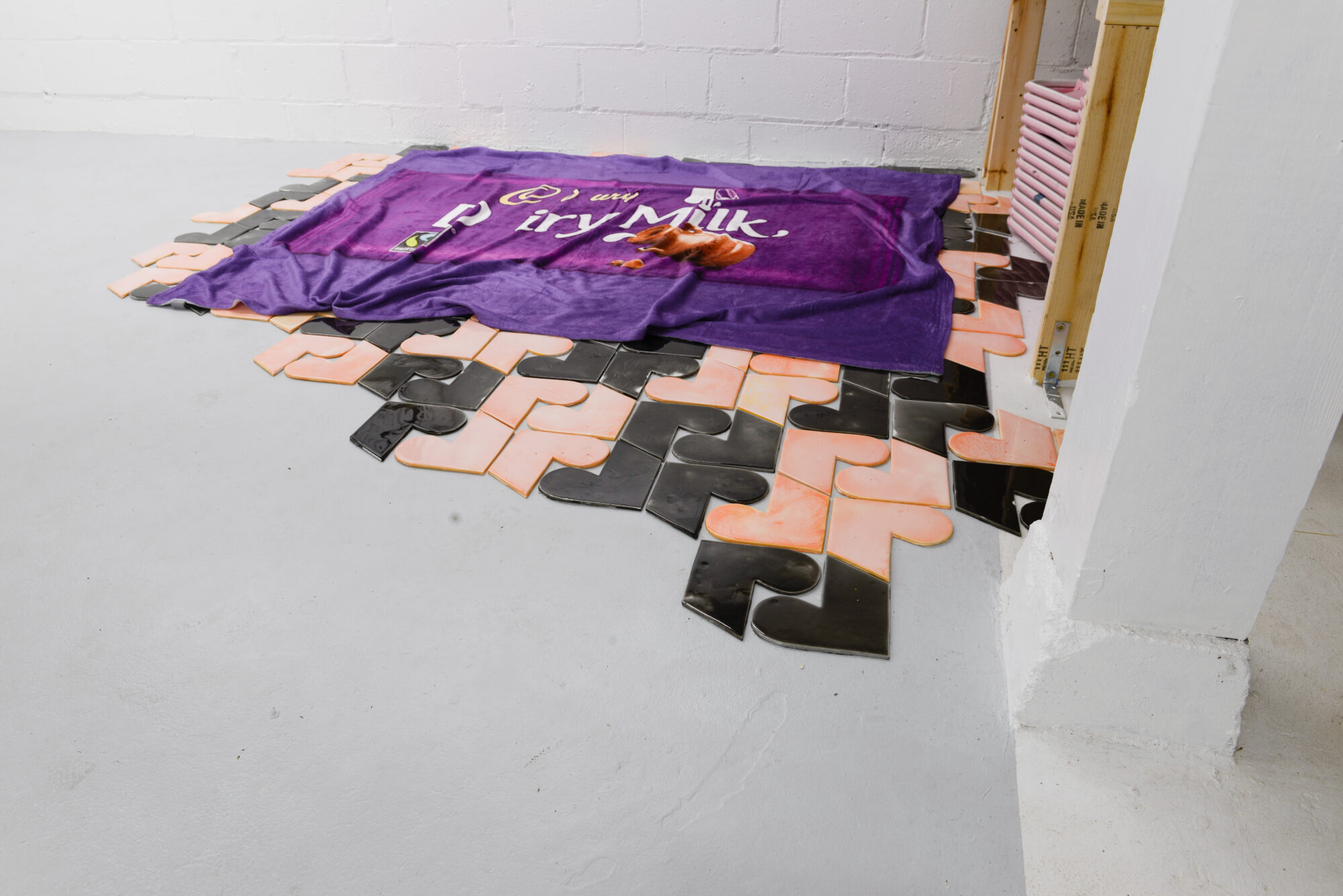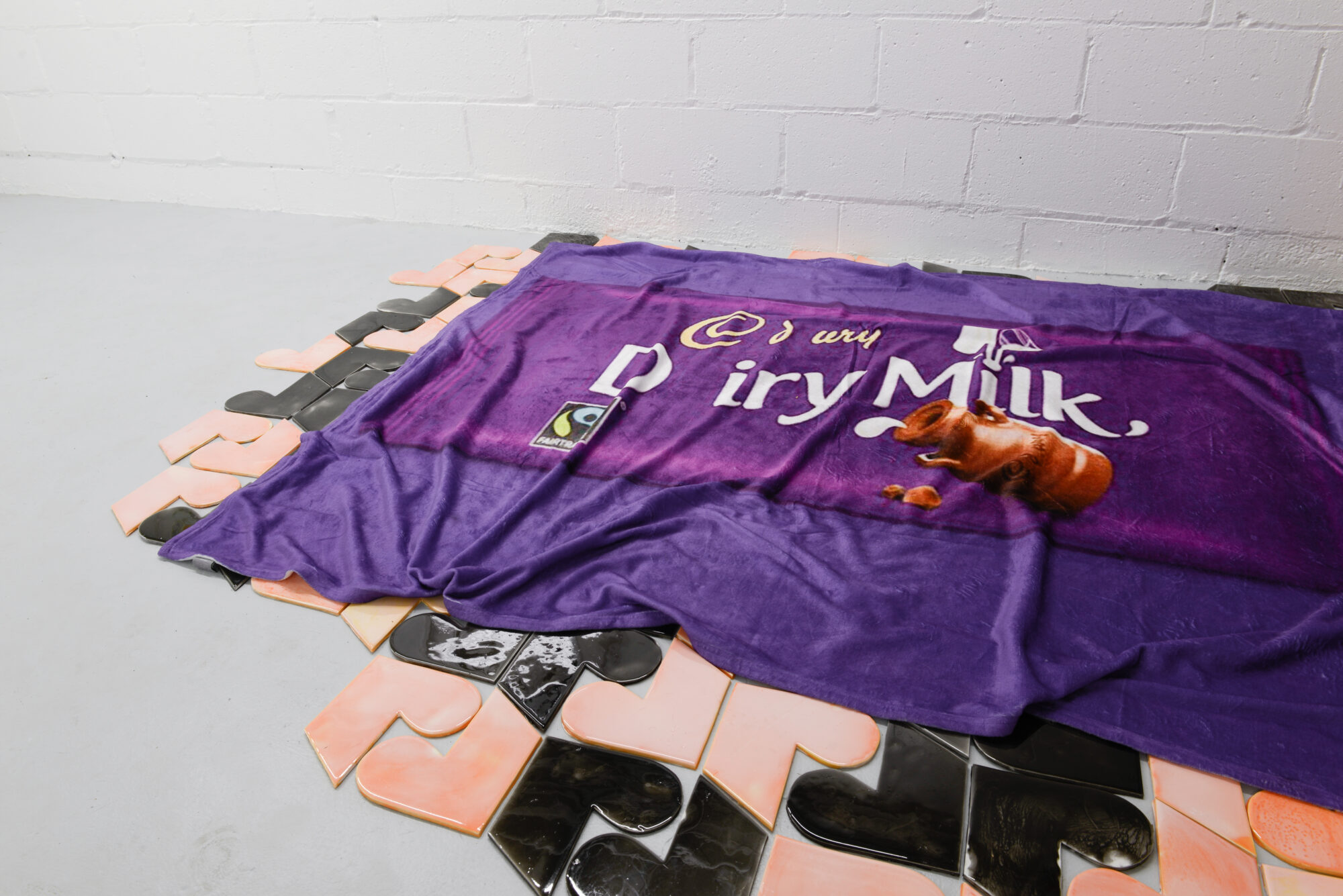 "COPS DOOM NATIONS" - Silk Screen Monoprint - 19in X 25in - 2020 This unique monoprint is a reclamation of the "FAGS DOOM NATIONS" protest sign designed by the conservative hate group, the Westboro Baptist Church.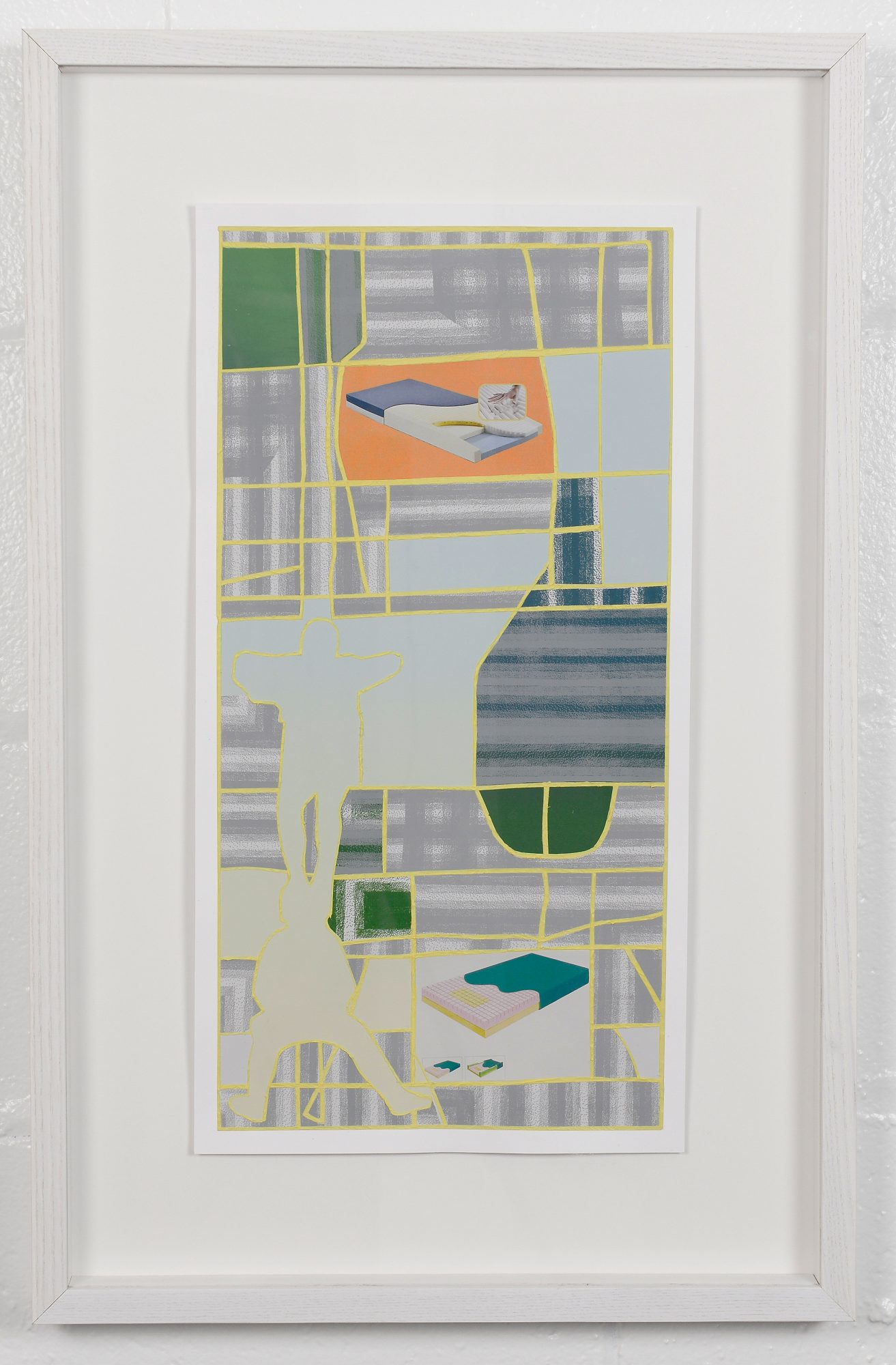 "Relaxing Tile #1" - Screen Print, digital print collage and acrylic - 11in X 21in - hand-painted print, edition of 3 - 2020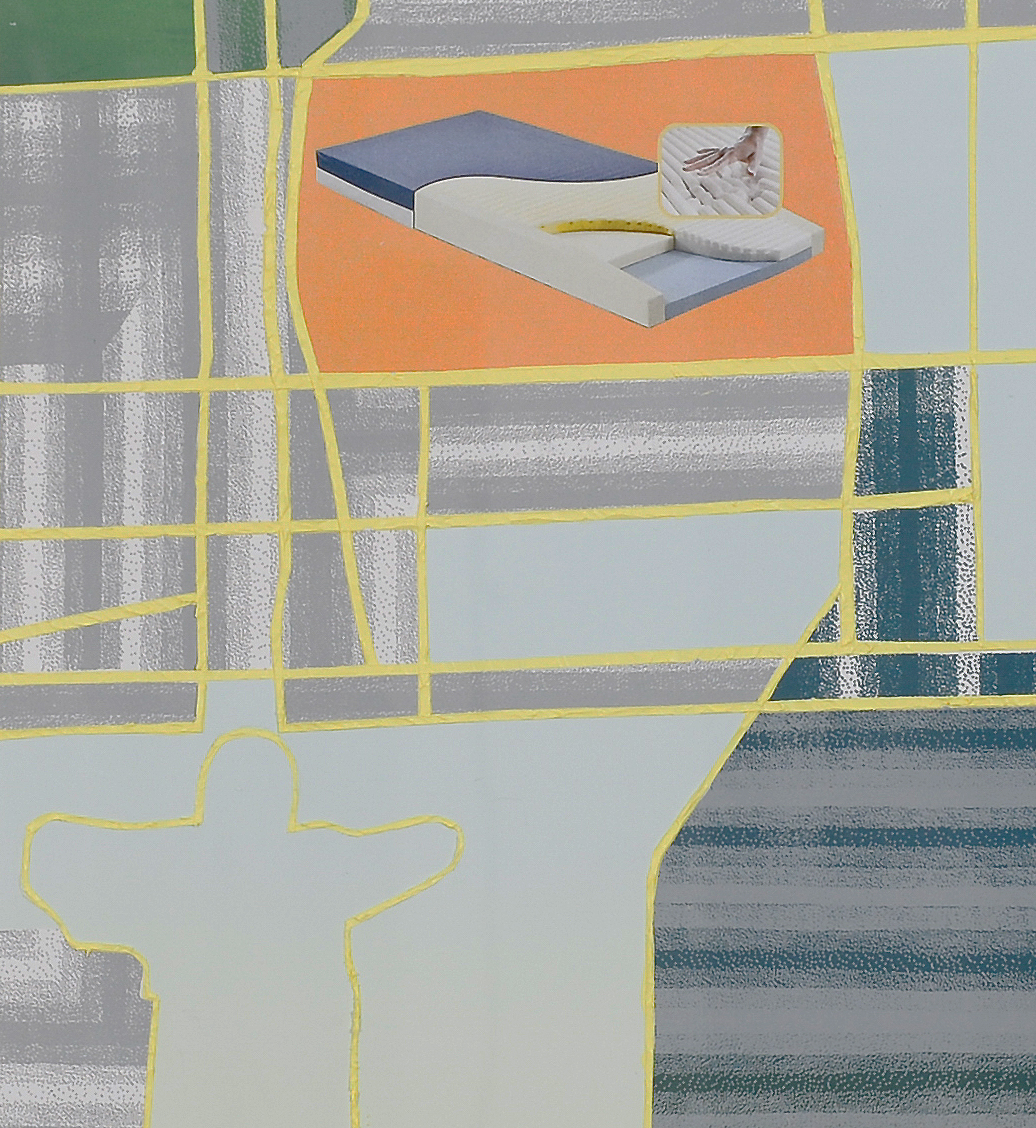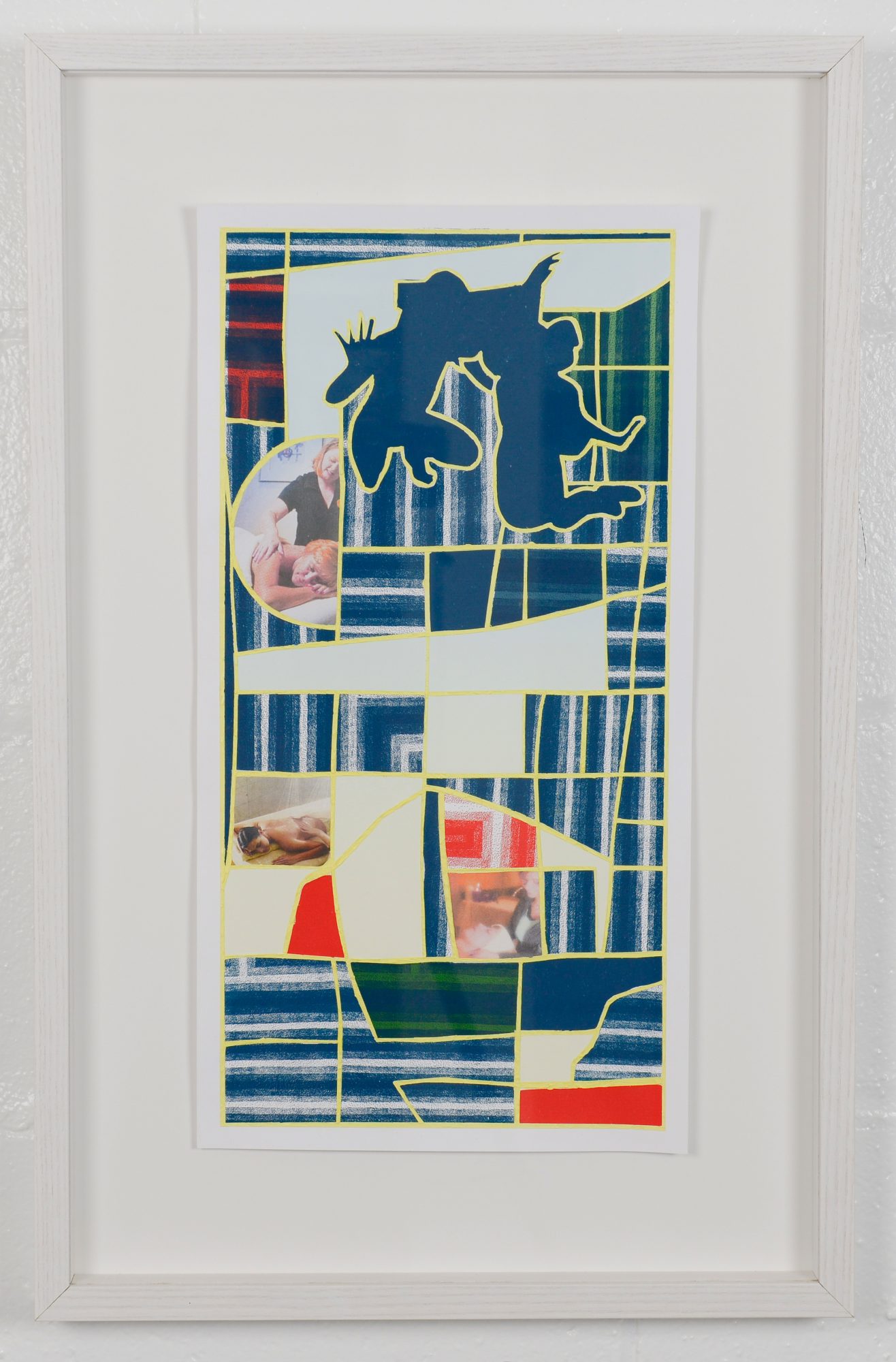 "Relaxing Tile #2" - Screen Print, digital print collage and acrylic - 11in X 21in - hand-painted print, edition of 3 - 2020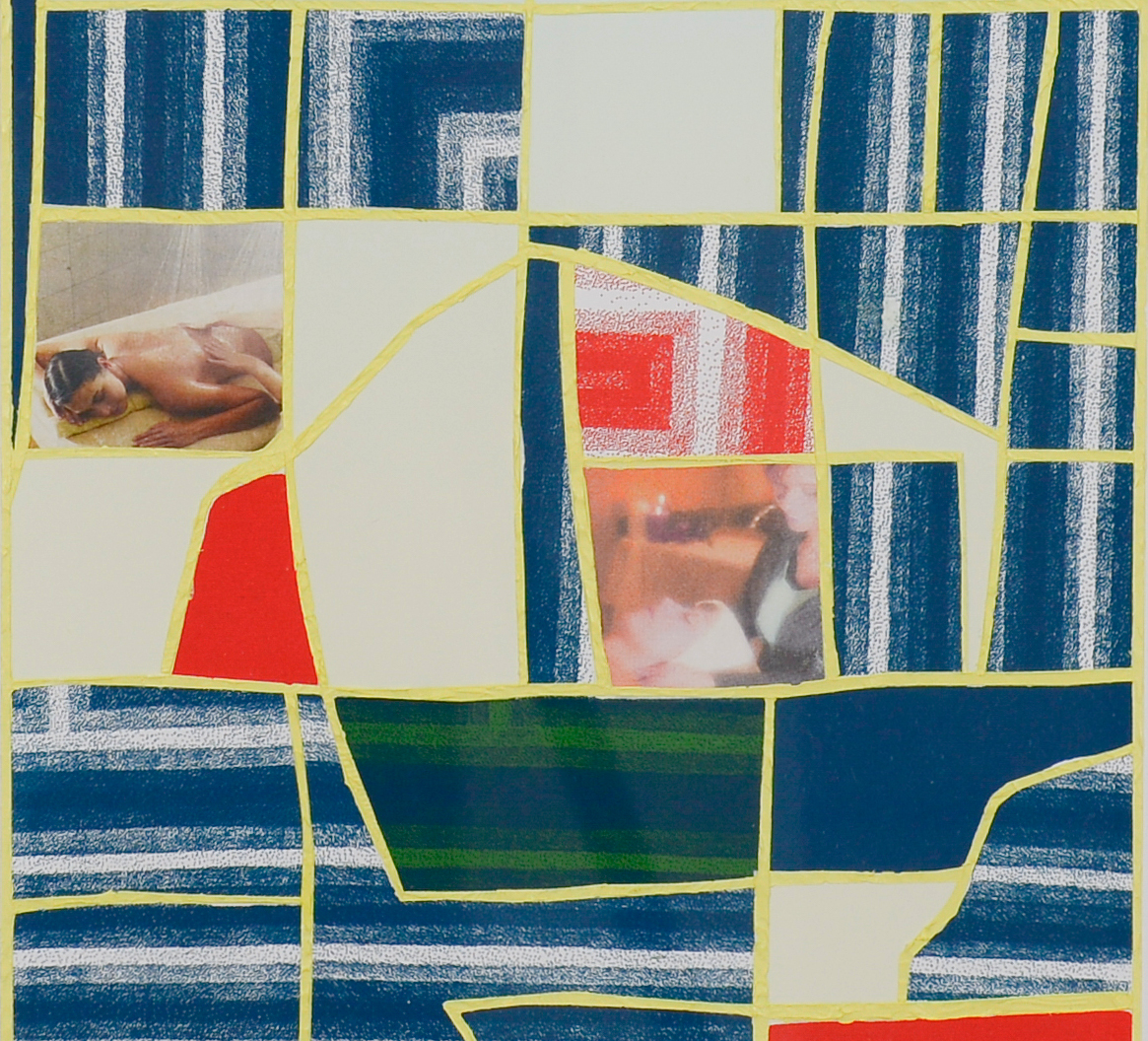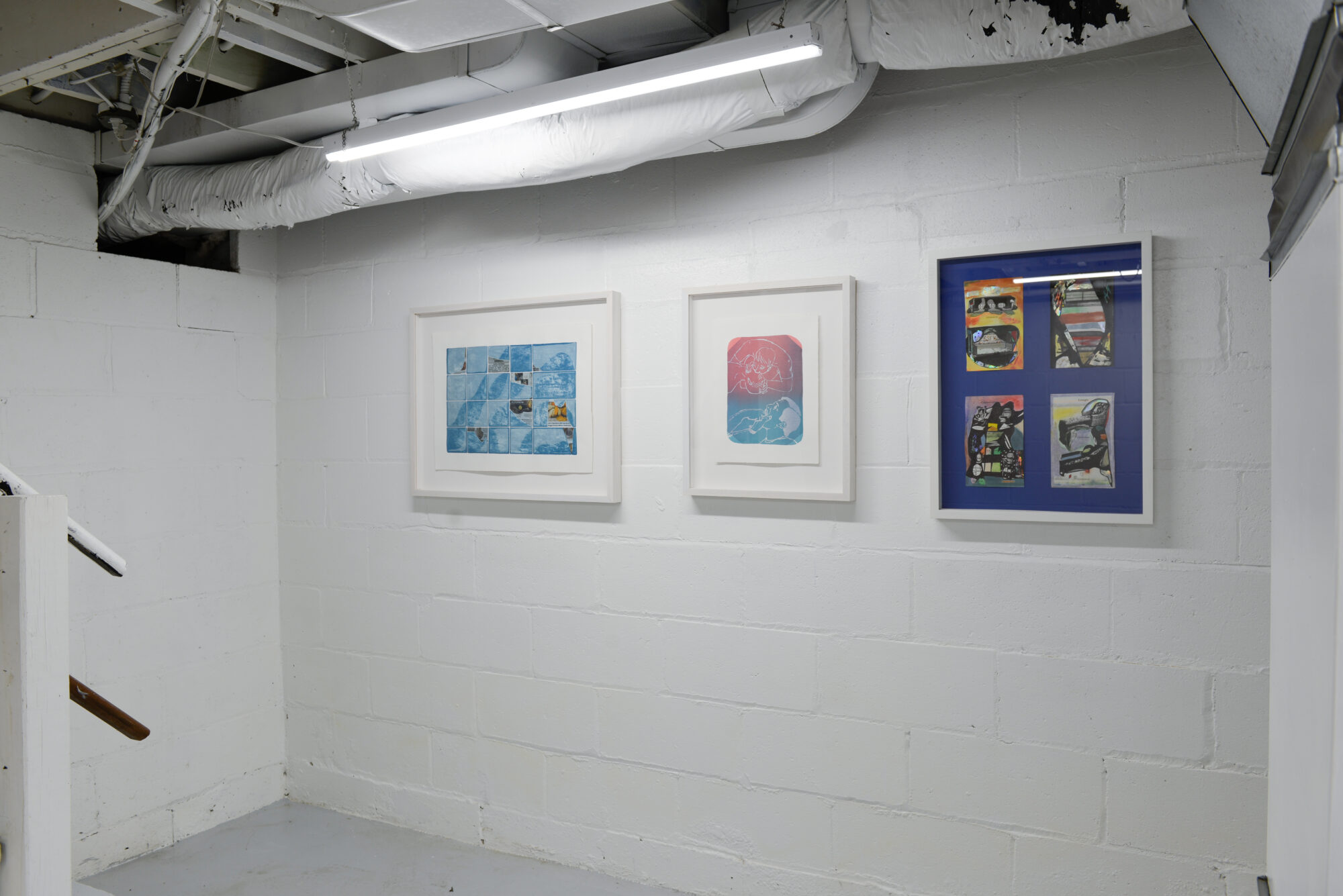 "This One Weird Trick" - Lithograph and Screen Print with Digital Print Collage - 23in X 17in - edition of 2 - 2020
"Mouth to Mouth" - Lithograph - 12in X 15in - Edition of 2 - 2020
"Value-added Catalog #5" - Colored pencil, Acrylic, Ink, Foil on Catalog Pages - 18in X 24in - 2019
Exhibition Catalog with writings about "Results" by Brooks Turner, Cameron Downey, and Travis Wilds