So, the venerable Mike Perry asked me to include work in his new book, Pulled: A Catalog of Screenprinting. published by Princeton Architectural Press.
I owe the introduction to Dan Black at landland.net, my former roommate, who suggested my inclusion.  Dan. Can't thank U enough.
Anyway, the book came out late last month.  I bought a copy yesterday and it is so well made, shot, and currated wisely.  I am humbled to be included in the same pages as Aesthetic apparatus, Landland, Seripop, Sonnenzimmer…and a bunch of others.
here's the cover.
There is a book release party and art show…my work will be included.  here's the info.
Mike Perry Presents PULLED A Catalog of Screen Printing

Book Release Party & Exhibition

Friday, April 29, 7pm – 10pm
7pm: Panel Discussion featuring: Josh Cochran, Demo, Maya Hayuk, andJeremyville, moderated by Mike Perry
Come celebrate the world release party of Mike Perry's PULLED, the first book to collect the most innovative contemporary screen printing.
3rd Ward will display nearly all the works from this ground-breaking book, including boundary-pushing artwork from Aesthetic Apparatus, Deanne Cheuk, Steven Harrington, Maya Hayuk, Cody Hudson, Jeremyville, Andy Mueller, Rinzen, Andy Smith, and other artists and graphic designers from around the world.
Mike Perry is an artist and best-selling author (Hand Job, Over and Over). He was chosen as Print magazine's New Visual Artist award in 2008, a "Groundbreaking Illustrator" by Computer Arts Projects, and works regularly with editorial and commercial clients including Apple, The New York Times, Dwell, Target, Urban Outfitters, eMusic, and Nike.
With complimentary drinks from Brooklyn Republic and music from DJ King Pop.
and here's the poster.  with my test print on it.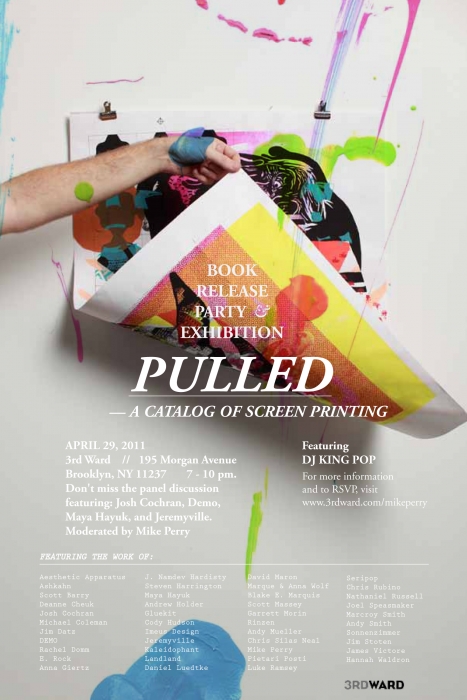 First time i've been published!  XOXO DAn