If you haven't already heard about it, let me tell you about the amazing parade and show I helped organize last friday August 6th.
My friend Jackie Beckey and I were asked to organize a "house show" for one of four events spurred on by Red76's program "House show as School House" that took part during Red76's residency at the Walker Art Center. Our mutual friend Gabriel Mindel (who's in red76) asked various people within the music scene here in minneapolis to organize their version of an ideal house/warehouse show., Then, the next day, each organizer was asked to come down to the lawn of the Walker to talk about how DIY show spaces act as centers for artistic, cultural and political dialog. Dye A Log!
Jackie and I were really stoked to a: be asked, and b: to work together. Her band Brute Heart, and my band Gay Beast have played many a show together, but we've never really had the chance to collaborate. So, once we got to talking, Jackie mentioned that she had organized a marching band for the last May Day parade, and how she'd love to get the marching band involved in some sort of performance. Then I started gabbing about my interests in parades, and it just all ballooned from there. Parade, followed by killer warehouse show. We got ahold of this really great new venue in town called the 1419 space..and we got an amazing lineup. Gay Beast, Mother of Fire, Brute Heart, and two touring bands..No Babies, and Orange Coax.
The parade was just bonkers. Jackie organized the marching band, complete with costumes and glow sticks. There were stilt walkers, a banner of christmas lights ..powered by a generator on a bike..face paint..everything.
We had no permit for our shenanegans, so we crossed our fingers and hoped the popo wouldn't have a problem. And it all worked, with no complications or drama.
Here's some more info:
The Poster: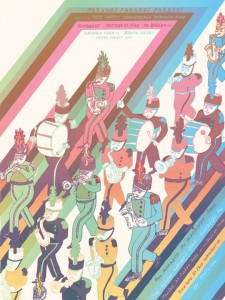 18" X 24" 3 color silkscreen $20 ppd (will be in poster section sooon!)
Andrew Flanagan did an interview with me about the show: HERE
Slide show of pictures from the Parade, courtesy of City Pages photographer Sean Smuda: HERE
Then, Andrew Flanagan did an article about my art and music that goes in print tomorrow: HERE
Sufficed to say, it was a memorable time….and hopefully we can do it all again next year.