Here's a poster I did for the heliotrope festival this year. I'll be down at the Ritz Theater all night tomorrow hocking them.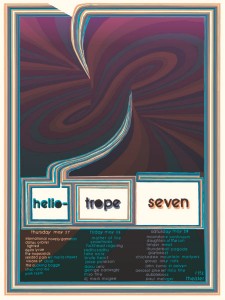 18" X 24" 4 color sillkscreen on offwhite paperrr. $10 at the show.
Also! There was an article written about me in today's Star Tribune (Thank you Christopher jensen). If anyone sees any print or poster that they are interested in, please contact me and I can set you right up. Still a few things to work on the sight and paypal stuff isn't set up.
Thanks everyone and hopefully I'll see you at Heliotrope. my band Gay beast is playing 8:30 on Saturday. So many good bands that night, so don't SNOOZE.
XXXXXOOOO
DAN